Motherhood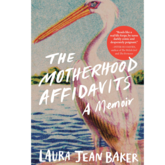 Listen
Kathryn interviews Laura Jean Baker, award-winning author of the book "The Motherhood Affidavits: A Memoir". With the birth of her first child, Baker discovers oxytocin to be the first effective antidote to her lifelong depression. Over the next 8 years, addicted to the highs of pregnancy and new motherhood, her 'oxy' cravings and family grow — to the dismay of her public defender husband. Baker is featured in Salon, The Washington Post and the NYTimes.
Laura Jean Baker MFA has also been featured in:


Guest Links
The Motherhood Affidavits: A Memoir
Buy
Trending Topics
Kathryn's wide range of guests are experts and influencers in their respective fields, offering valuable insights and information. Click the links below to view more episodes within the specific topic.
Related Episodes

Episode #1452

"Using Mindfulness to Reduce Mom Rage"

Episode #1537

"When Worry Works: How to Harness Your Parenting Stress and Guide Your Teen to Success"

Episode #1260

Dr. Abigail Gewirtz

Author, Child Psychologist & Professor, University of Minnesota's College of Education and Human Development

"When the World Feels Like a Scary Place: Essential Conversations for Anxious Parents and Worried Kids"