Feminist Dystopias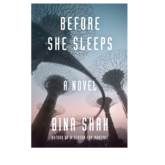 Listen
Kathryn interviews journalist Bina Shah, Pakistan's internationally renowned author of "Before She Sleeps: A Novel". Conjuring Margaret Atwood's The Handmaid's Tale, Shah takes the parable of women selected for breeding to a terrifying new level. In her dystopian thriller, women in the Middle East and Asia have had their numbers drastically reduced by war, gender selection and disease. The consequence is that women must take multiple husbands in order to produce more female children. Not all women agree to submit.
Bina Shah has also been featured in:

Guest Links
Before She Sleeps: A Novel
Buy
Trending Topics
Kathryn's wide range of guests are experts and influencers in their respective fields, offering valuable insights and information. Click the links below to view more episodes within the specific topic.
Related Episodes

Episode #1349

"The Light of Days: The Untold Story of Women Resistance Fighters in Hitler's Ghettos"

Episode #1152

Jessica Powell

Author & Former Google VP of Communications

"The Big Disruption: A Totally Fictional But Essentially True Silicon Valley Story."