Anxiety And Grief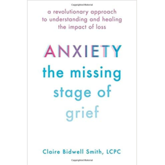 Listen
In a 2018 public opinion poll, the American Psychiatric Association reported that a majority of Americans are anxious. This number has been growing annually and in a time of global pandemic, it makes sense that numbers today are spiking even more. We are experiencing unprecedented grief and anxiety on a global scale. Many will have to endure this experience physically isolated from the very people who would, under normal circumstances, be there for them. Dealing with grief on its own can already be an isolating experience that leads to anxiety and Claire Bidwell Smith provides a road map to keeping cycles of grief, isolation and anxiety from snowballing. She's the author of two previous books and has written for The NY Times, Washington Post, Guardian, HuffPost, Salon.com, Slate and more.
Claire Bidwell Smith MA has also been featured in:






Guest Links
Anxiety: The Missing Stage of Grief: A Revolutionary Approach to Understanding and Healing the Impact of Loss
Buy
Trending Topics
Kathryn's wide range of guests are experts and influencers in their respective fields, offering valuable insights and information. Click the links below to view more episodes within the specific topic.
Related Episodes

Episode #1401

Erica Komisar LCSW

Author

"Chicken Little the Sky Isn't Falling: Raising Resilient Adolescents in the New Age of Anxiety"

Episode #1174

Dr. Amy Serin

Author & Neuropsychologist

"The Stress Switch: The Truth About Stress and How to Short-Circuit It."

Episode #1051

Charita Cole Brown

Author

"Defying the Verdict: My Bipolar Life"