Effective Leadership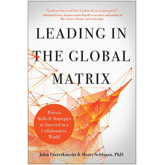 Listen
The global pandemic is disrupting our world on every level: businesses and people are both at a breaking point. With crisis management the norm and every day filled with bad news and anxieties, the emotional, mental and physical toll on leaders is immense. Worse, stress and anxiety can compromise the immune system, which could spell disaster now. To be effective, leaders need to show up as their best selves no matter what. That takes strategies, skills and self-awareness. John Futterknecht shows why leaders need to turn away from their instinct to sacrifice their health to ensure their organization's survival - and how to put their well-being first. He's a veteran Executive Coach and Leadership Development Trainer who's worked with leaders at some of the world's largest companies, including many Fortune 500s.
Guest Links
Leading in the Global Matrix: Proven Skills and Strategies to Succeed in a Collaborative World
Buy
Trending Topics
Kathryn's wide range of guests are experts and influencers in their respective fields, offering valuable insights and information. Click the links below to view more episodes within the specific topic.
Related Episodes

Episode #1401

Erica Komisar LCSW

Author

"Chicken Little the Sky Isn't Falling: Raising Resilient Adolescents in the New Age of Anxiety"

Episode #1392

Wendy Suzuki

Author, Professor

"GOOD ANXIETY: Harnessing the Power of the Most Misunderstood Emotion"

Episode #1248

Claire Bidwell Smith MA

Author & Licensed Therapist

"Anxiety: The Missing Stage of Grief: A Revolutionary Approach to Understanding and Healing the Impact of Loss"