Avoiding Burnout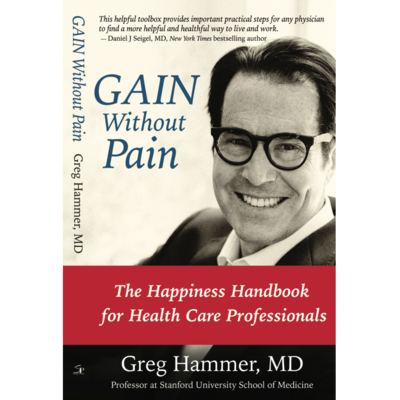 Listen
Burnout is on the rise and it's a problem we can't afford to ignore. The rising costs of burnout are staggering as health care professionals sacrifice their health, happiness and relationships. But there is a solution. International speaker Dr. Greg Hammer created GAIN Without Pain (Gratitude, Acceptance, Intention and Nonjudgment) so health care professionals can prevent burnout and reclaim happiness. This proven path toward personal resilience can be implemented by anyone anywhere in just a few minutes a day. This increased resilience could save your practice, your patients, your marriage - or even your life. For more than two decades, Dr. Hammer has been a popular lecturer, and a featured speaker at Harvard, UPenn, USC, Northwestern and Stanford universities.
Guest Links
GAIN Without Pain: The Happiness Handbook for Health Care Professionals
Buy
Trending Topics
Kathryn's wide range of guests are experts and influencers in their respective fields, offering valuable insights and information. Click the links below to view more episodes within the specific topic.
Related Episodes

Episode #1365

Annie Daly

Author & Travel Journalist

"Destination Wellness: Global Secrets for Better Living Wherever You Are"

Episode #1269

Hope Andersen

Author, Screenwriter & Coach

"How to Remodel a Life: A Guide to Living Well with Alcoholism and Bipolar Disorder"

Episode #1110

Martin Cohen

Bestselling Philosophy Writer

"I Think, Therefore I Eat: The World's Greatest Minds Tackle the Food Question"