Odd Child Out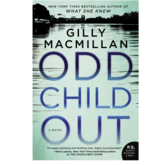 Listen
Kathryn interviews Gilly Macmillan, New York Times bestselling author of "Odd Child Out". In 2015, NYTimes bestselling author Gilly Macmillan dazzled readers with her debut novel What She Knew, a thriller that was named one of the best mysteries of the year, nominated for Edgar and Thriller Awards. Readers will now be captivated by Macmillan's new novel Odd Child Out, another whip-smart domestic suspense about secrets families tell one another - packed with emotional depth, twists and turns, and masterfully created characters. Macmillan, once again proving herself a strong voice in suspense fiction, is featured in The Huffington Post, New York Daily News and Publishers Weekly.
Gilly Macmillan has also been featured in:

Trending Topics
Kathryn's wide range of guests are experts and influencers in their respective fields, offering valuable insights and information. Click the links below to view more episodes within the specific topic.
Related Episodes

Episode #1395

Florence Ann Romano

Author, Philanthropist

"Florence Ann Romano"

Episode #1384

"How to Talk When Kids Won't Listen: Whining, Fighting, Meltdowns, Defiance, and Other Challenges of Childhood"

Episode #1061

Alyce Desrosiers LCSW

Social Worker & Author

"The Nanny Manual: How to Choose and Nurture the Perfect Childcare Partner"